Spindles are the business end of the router. They provide the rotational torque that does the work of cutting.
Major brands
Colombo, HSD, Kress, and Porter-Cable. We use primarily Colombo and HSD spindles. Kress and Porter-Cable spindles are smaller, basically souped-up Dremels.
Pictures of the common spindles
Replacement
Important factors for replacing a spindle are: HP, Voltage, Amperage, and RPMs found on the nameplate (see fig 2). As there may be multiple specs on a nameplate, a PICTURE is usually the best way to determine the right motor.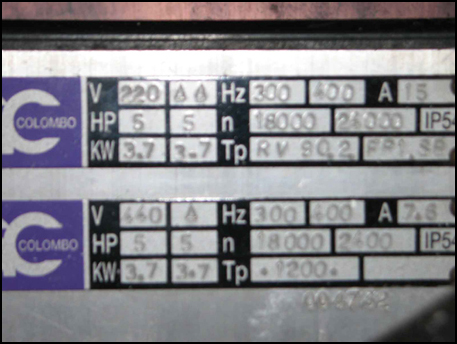 H24G10-ISO3032H ISO 30 Tool holder excepts ER32 Collets
Collets
Collet nuts clamp down on the collet, which holds the tool.
Download the Proper Spindle Colleting Guidelines (pdf) for more information.
Dust Collection
For dust collection options, visit the Dust collection page.