These manuals will help you operate and maintain your machine.
Techno CNC Servo Control Software
This manual includes the Servo DaVinci LC, LC Plus, RG, Pro Series and Premium Class.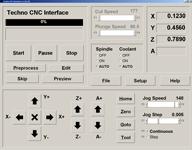 Archived Documents
Techno CNC Servo G-COde Interface Manual (build 400+) in PDF format.
Techno CNC Stepper Control Software
This category includes the Stepper DaVinci (C-Series) and MAC Series routers.
C-Series Control Software Manual
Techno CNC Lathes
Accessories